---
Things are heating up! In the south, it's already hot, but in the Midwest (Michigan, Ohio, Indiana, etc.) it's just starting. Chances are you are just now thinking about dusting off the bike. Or, you may be deciding on what you actually want to do with it. Should I keep it or do I want to sell my motorcycle? This begs the question…


Is right now the best time to sell your motorcycle?
Well, I think we can make a good case that it just might be! Below is a list of qualifiable reasons that just might fit the bill (or pay the bills as it were). First, let's talk a little bit about the type of motorcycle you have.  Is it American Made or Metric? Is it made for the road or for the trail? If we are buying your motorcycle then it's not quite as important to you since we will buy nearly all makes and models. However, quantifiable reasons like; the year, miles, and condition do however make a difference to all buyers.
Sell now if it's just going to sit there:
If you don't sell it now, It'll just sit in storage for another year
Sell your motorcycle now so it doesn't sit in storage for another year (see how that works?)
If you sell now it will be worth more than it will be next year (ok, we're down with that logic)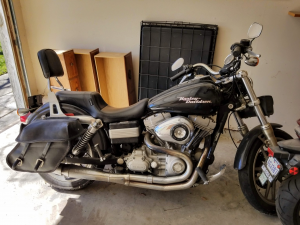 All kidding aside, it does make sense, and sometimes you just have to be hit in the face with facts. That might just be the number one reason to sell your motorcycle right now. There are others reasons, however, and the buyer plays into several of them. To be honest there is never a bad time to sell your Harley. For the most part, they are always in demand. As we said the price you can get for your Harley Davidson or Honda, Suzuki, etc., for that matter, is governed by those quantifiable factors.
Buyer Awareness
Okay, let's get back to more reasons why it might be the best time to sell your motorcycle. Buyer awareness. What does that mean? Well right now the demand will is high and getting higher with spring turning into summer:
The warmer it is the more new riders are looking to buy a motorcycle
With gas prices this high, a street bike or cruiser will save buyers money
Many people are looking to upgrade their ride right now
For us, this time of year is when things really pick up. That too can work in your favor if you're ready to sell your motorcycle now. We pick up anywhere in the United States, but our drives in Michigan can pick up your bike the next and even in some cases the same day! It's really in our name … Cash 4 Motorcycles, plus warmer weather, and high demand that makes right now the best time to sell your motorcycle!