---
There are many uses for an ATV! ATVs have designs that make them optimal for non-paved terrain. As a result, it can handle a variety of terrain types that other Powersports cannot handle. Depending on the type of ATV and the functionality, these machines can have a variety of applications.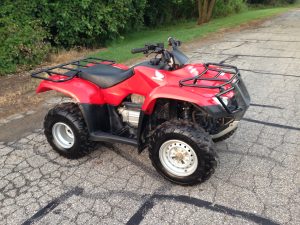 About ATVs & UTVs
ATV stands for an all-terrain vehicle. As mentioned above, these vehicles are designed to take on different terrain types. According to the American National Standards Institute (ANSI), the definition of ATV is a vehicle that travels on low-pressure tires, a straddling seat of the operator, and handlebars for steering. While these vehicles are fundamental in certain industries for travel, they are also popular for recreational activities. Furthermore, ATVs are common in extreme sports.
UTVs (Utility Terrain Vehicles) are all-terrain vehicles that have varying features from their counterpart. They too can conquer some very rough terrain and you can do it enclosed in a cab and with a passenger at your side. Also depending on the model, you get you may find yourself able to transport up to as many as six people on your machine.
The features that make them stand apart include:
2 or More Seats Bolted in Next to Each Other
Roll Bars or Roll Cage
A Cargo Hold in the Back
Kits to Make them Street Legal
Most UTVs were made for utility and sports. UTVs are very popular to use in desert and sand terrain. These vehicles are more expensive than ATVs. However, UTVs are better for people riding with multiple people.
Side By Side (SxS) vehicles refers to UTVs and ATVs that are small 2-6 person, all-wheel drive, and all-terrain vehicles. Most Side-By-Side designs are used in UTVs (Utility Terrain Vehicles) or  MOHUVs (Multipurpose Off-Highway Utility Vehicles). Often UTVs are referred to as Side-By-Side because they have the same features. However, this also applies to MOHUVs that have the same qualities as UTVs but the design is focused on transporting cargo.
The Many Uses of ATVs & UTVs
These are the many uses of an ATV and the types available. People use all-terrain vehicles for recreation, participating in extreme sports, or hunting. Meanwhile, others will use these vehicles for utility purposes, transferring cargo, and other equipment. As a result, ATVs and their other variations are always in demand!
Snowplow anyone?
There are light or heavy snow options when considering using a UTV as a snowplow. The Honda Pioneer 500 can use a narrower plow for sidewalks and small driveways for example. For heavier snow, the Kawasaki Mule with its speed, power, and ability to maneuver, will fit the bill. Purchase an aftermarket plow kit and use it to clear, driveways, streets, and even fields.
For the fun of it!
Both vehicle types offer riders a lot of fun and adventure. There's nothing like getting out on the trails and blasting through to get to where you are going. In reality, it's not a specific place but rather a trail or series of trails that eventually lead back to where you began your ride.
Fun and function
Depending on the model of UTV you choose it may also be street legal. You may be able to put a plate on your machine and then head out on your local roads. This is not something we suggest you should do during rush hour traffic, but you can do it. In fact, we recently saw many of them in Myrtle Beach South Carolina where rentals are common for vacationers transporting to and from the beaches. You may see some people riding through neighborhoods on their machines. You might be tempted to join these riders. however, you do need to be aware of the laws and what the consequences may be if you are caught riding illegally.
Both of these styles of vehicles are meant for having some fun and some really great times with family and friends.
Buying or Selling an ATV or UTV?
Before you decide to buy your four-wheeler, take some time to review each style of machine. Review all of the manufacturers of these vehicles as many have a better standing among riders and professional testers. After that, take the plunge into year-round riding enjoyment. Yes, year-round. In case we forgot to mention that your machine can be used in certain conditions all year long.
Maybe you already own one and want or need to sell your ATV or UTV. There can be many reasons to let go and whatever yours may be, they retain their value if in good shape. We will make a cash offer for your late model used UTVs or ATVs. Plus, we will pick them up where it is convenient for you.
Ready to sell? Just fill out our no-obligation quote form and submit it to us. We will do a quick review of what you have and we'll get right back to you with a great offer for us to buy your machine.