---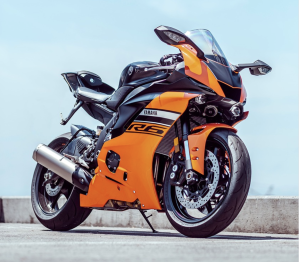 Yamaha is a renowned Japanese motorcycle manufacturer that produces a wide range of motorcycles for various riding purposes. These include street riding, off-road, touring, and racing. No matter what kind of bike you're looking for, Yamaha has a model for you. 
Additionally, each model comes with a wide array of benefits. Yamaha is the best motorcycle brand to buy for several reasons. Each of their models has amazing performance, style, reliability, innovation, and longevity. Other brands in the industry might not focus on fitting each of these aspects in their bike models. If you're looking for a popular motorcycle that's made to last, Yamaha is the brand for you. 
Throughout the years, Yamaha has produced multiple popular models. Here is a list of just some of the best Yamaha motorcycles that are popular among riders today.

Popular Yamaha Models
Yamaha YZF-R1:

This model is a superbike designed for racing enthusiasts and is equipped with a 998cc engine that delivers impressive performance. Because of the power offered by the YZF-R1, it is not a beginner bike. This model from Yamaha is really designed for the more experienced rider. With its sleek design and powerful and spirited engine, this bike is made for speed and maneuverability. 

Yamaha MT-09:

This model combines power, style, and agility and is ideal for street riding. It's also one of the more comfortable options that Yamaha offers which makes it ideal for long rides. 

Yamaha YZF-R6:

The YZF-R6 is a middleweight sport bike that has won multiple championships in racing and is known for its precise handling and agility. While this model can be used for everyday riding, it was made for racing and its sleek design supports that.  This one is a bike that is preferred by both beginners as well as more experienced riders as it offers its rider lots of fun and adventure.

Yamaha Tracer 900:

This model is a touring motorcycle that is perfect for long-distance riding and is equipped with advanced features such as cruise control and adjustable suspension to provide you with a comfortable long-distance ride or just a spin around town. Additionally, this is a powerful bike that is better suited for experienced riders. 

Yamaha YZF-R3:

This is an entry-level sports bike that is perfect for beginners and is equipped with a 321cc engine that delivers a decent amount of power. As a starter sport bike, this model is always in demand due to its style and easy handling abilities. Even more experienced riders often opt to ride the YFZ-R3.

Yamaha WR450F: The WR450F

 is an off-road bike that is designed for trail riding and is equipped with advanced suspension and engine technologies. Its lightweight design allows for easy maneuverability and maximum agility. 
Each bike comes with its own benefits and is suitable for a wide variety of riding enthusiasts. Because of the variety produced by Yamaha, we are always in search of used Yamaha motorcycles to purchase. If you have a Yamaha motorcycle that you would like to sell for cash, then let us  know. We make the process of selling your motorcycle for cash a simple and easy way for you pick up the money you need and to let loose of the motorcycle you currently have and want or need to sell.
Sell Your Yamaha Motorcycle to Cash 4 Motorcycles
Here at Cash 4 Motorcycles, we are interested in purchasing your used Yamaha motorcycles! Whether you're trying to upgrade or retiring as a motorcycle rider, we will offer you a fair price and make the selling process as easy as possible. We also have a wide service area and will pick up the bike at your convenience. Get a free quote on your bike today and see what we can do for you!