---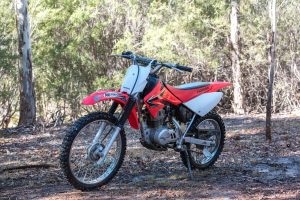 It's that time of year again which means it's time to take your dirt bike out of storage. Get back outside this spring and take advantage of the warmer weather. There's been some growth in the dirt bike industry and whether you're interested in buying a new bike or selling your old one, it's best to stay up to date with the current most popular models. 
The Most Popular Dirt Bikes of 2023
So, what are the most popular dirt bike brands this year? While there are many amazing dirt bikes, it seems that Yamaha, Honda, and Kawasaki have produced some outstanding bikes for 2023. 
Yamaha YZ450F
The Yamaha dirt bikes are the most popular this year due to the 2023 Yamaha YZ450F being named the best motocross bike winner and for good reason. The YZ450F has powerful horsepower, traction, and improved handling from previous models which makes it all the easier to ride. If you need a nice motocross racing bike, Yamaha has the best. 
Honda CRF Model
Honda is a brand that is always at the top of the dirt bike industry. From the smaller CRF50F to the CRF110F to the heavy-duty CRF250F, Honda has proven that their dirt bikes are some of the best. From their sleek designs, large engines, and off-road endurance, it is hard to find a dirt bike better than Honda. 
Kawasaki KX and KLX
Kawasaki is another brand at the top of the industry currently. Some models that are currently getting the most attention include the KX 450, KLX 110, and the KLX 450R. These models are known for their rider-friendly features such as suspension braking and weight distribution which makes them highly desirable for off-roaders.
Bikes That Are Becoming Popular
There are also several dirt bikes that aren't at the top but are getting more popular. KTM is an up-and-coming brand that is getting more popular by the day. Their models come in both two and four-stroke. These bikes are best for racing and long-distance rides due to their power and large engines. 
When it comes to dirt bikes, Husqvarna has proven time and time again that they can build reliable bikes. Focused on using high-quality components, Husqvarna's bikes are known to go the distance compared to other bikes. They may not be considered the best yet but they are worthy contenders.
GasGas bikes are also becoming more popular. With two highly efficient production lines, they offer the largest and most diverse off-road motorcycle line-up of any manufacturer in the world. These bikes are lightweight, reliable, and comparable to even the best brands.
When it comes to dirt bikes, they are built for and typically get ridden hard on the racing tracks and off roads. You may be interested in selling your dirt bike. In that case, clean up your bike as much as possible and make sure it's in good working order. Then, give us a call or fill out a quote online with plenty of pictures to get the best offer. Contact us today to see how we can help you!